Short biography
Wouter Kiers (1970) began playing the clarinet in 1979 with the local Brass Band.In 1984 he changed his instrument and started to play the saxophone, a change that he has never regretted for one moment! In 1985 he gained a little bit of experience with the "light" music genre; he played for some time in his fathers danceband. In 1988 he joined a popband in which his colleague-saxaphonist , Ruud de Vries also played. These two collaborated together and formed quite a few different bands, one in particular was Kiers and de Vries, which soon gained notable recognition. In 2002 this band appeared at the North Sea Jazz Festival. Prior to this, Kiers had played at this very famous festival with The Blue Moon Special Band. In the year 2000 he replaced colleague Boris Vanderlek, a tenorsaxaphonist, and accompanied the world acclaimed Hans Dulfer during his tour thru Japan. To date, Wouter Kiers is a highly requested tenorsaxophonist with the ability to play in so many diverse styles. He is an absolute chameleon of musical styles moving with such diversity and dexterity thru any composition that crosses his pathway, never flinching or afraid to try anything new ….
Next to his own band, Wouter Kiers Trio and Quartet, he still hammers steadily away on the road with his Saxrockband, Blood Sweat & Kiers and plays with other various formations/bands, one of which is the NorthDutch 'Cheeerz'.
Complete biography
1979: Wouter Kiers begins playing the clarinet at the Excelsior harmonievereniging inWassenaar.
1984: His parents buy him a 'Selmer Bundy' tenorsaxophone, so he quits his clarinet and starts to play his new 'sax' with Excelsior.
1985: For the first time he is allowed to play in his fathers danceband 'de Varianten'.
1988: Wouter joins the (school) popband 'Read Label', Ruud de Vries also plays sax with them.
1989: Together with Ruud he starts his own band called 'Feet First', here the –justgetting started – saxophonists start to play funk and begin to snuffle around fusion, like that being done by artists such as David Sanborn, then they begin experimenting and making their first attempts.
Period 1990 – 1994
1990: Wouter and Ruud decide to change the formation of their band and start a new band called 'No Limits' where they begin to perform their own funky numbers, having been inspired by the live performances and the sax-sounds of tenorsaxaphonist, Hans Dulfer(father of the world famous Candy Dulfer!).Not surprisingly Hans Dulfer gets a change to see them perform live before his own act.Immediately after hearing them he plays their number "Fat Chicken" from a demo cassette on his programme on the VPRO radio station.
1991: Wouter is called up for military service and much to his relief he is assigned to the Artillery Trumpetter Corps. Luckily, this not only enables him to drink lots of beer, but he can also dedicate his time playing his saxophone very intensely!
Besides the band 'No Limits' together with Ruud de Vries he starts up the four-man Band 'Sax-90' which plays well known popcovers and some jazz standards.
1994: ' La Blusa', the Cajun and Zydeco Band ask Wouter to replace their former saxophonist.
Period 1995 – 1997
The band 'No Limits' reaches a dead end, and they decide to split and each go their separate ways. Band 'Sax-90' comes to a halt too.Wouter starts up the ' Kiers Unit '
1996: Former Urban-heroes singer,Evert Nieuwstede asks Wouter to play a couple of numbers on his CD 'Johnny Runaway' produced by Shel Schellekens.
1997: Wouter meets the rockabilly trio 'Alley Cats' during a jamsession at Café De Pater in the Hague, after this encounter he plays regularly with them.
Period 1998-2000
1998: Wouter Kiers decide to close down the band, 'Kiers Unit' and he and Ruud De Vries make a dance-record that gets the title 'Blow Job'. Subsequently they begin a new band and continue under the name 'Kiers and De Vries'.
During that same year Wouter Kiers appear with the bands 'Blue Moon Special' (rock'n roll) and 'Mr. Boogie Woogie' (boogie-woogie and blues). After meeting
the American singer/saxophonist Rosa King, Wouter
play regularly with this unique jazz diva, unfortunately, deceased far too young.Wouter also starts to play with the easy-listening-trio 'Hidden Charms' and the Andre Valkering Quartet.
2000: Another band appears on the scene: the mainstream
Orchestra ' Swing Match', with which another CD is made entitled 'First Match' Also that year, Hans Dulfer asks if Wouter can replace Boris Vanderlek,( who is unavailable due to circumstances), and accompany him during the Dulfer El Saxofon 2000 Tour in Japan. It is a tremendously busy year: the Hague band'Billy The Kid' ask him as well to do the 'Marlboro Flashback To Rod Stewart Tour'.
Period 2001 – 2002
In Music Café Ruimzicht in Burgerveen, Wouter records the CD, 'Live in Burgerveen' with de Kiers & De Vries Band. This CD is enthusiastically received by their many fans and numerous jazzfestivals. Wouter plays at the famous North Sea Jazz Festival with the rock 'n roll and, 'Blue Moon Special'. During the New Years Saxbattle in Dirkshorn, he is awarded the 'Dirkshorn Award' together with his favourite dutch saxophone players Hans & Candy Dulfer and Rinus Groeneveld. They receives this from Jan Hupkens personally on stage.
2002: Wouter leaves 'La Blusa'. He plays yet again at the North Sea Jazz Festival with the Kiers & De Vries Band. During this year he forms the 'Wouter Kiers Trio', together with contra bass player Harm van Sleen and drummer Peter Kalisvaart. Due to an ever increasing demand on the 'de Kiers & De Vries Band' and a variety of other ambitions he wishes to pursue, he leaves the bands, Mr. Boogie Woogie and Blue Moon Special.
Period 2003 – 2004
2003: Wouter records the 3rd Kiers & De Vries CD entitled 'Superglued'. That year he also begins a personal relationship with jazz singer Lils Mackintosh, with whom he begins to perform with band 'Lils Mackintosh Versus Kiers, Kooger& Krijger' (together with drummer Eric Kooger and Hammond organist Arno Krijger). A short-running dance project entitled 'Mackintosh beats The Horns' starts that year, with De Vries and DJ Eliosonic (Martin Buursen).
2004: He starts the jazzformation 'Nobody's Band' in collaboration with Lils Mackintosh, pianist Nick van den Bos, bass player HarmWijntjes and drummer Maarten Kruijswijk. He performs regularly with the 'Wouter Kiers Quartet' ( with exchangeable formations/musicians) and the 'Swinging Five' ( with Ruud de Vries, piano Wim van Hoorn, bass Lodewijk Van WendeldeJoode and drummer Paul Uljee). Within these formations he can play to his hearts content all the many jazz numbers he knows by such greats as saxophone heroes Eddie "Lockjaw" Davis, Arnett Cobb, and Illinois Jacquet. Also this year the CD by the 'Andrew Read Trio' is recorded entitled, ' Winter of my Dreams' with guest artists Wouter Kiers and Lils Mackintosh. Meanwhile Wouter is busy making plans for a new live CD with the 'de Kiers & De Vries' band.
2005: This is the year that Kiers plays with the Hague band 'Beatnach' at the Hague Parkpop Festival. Kiers plays with five numbers together on the CD, SoulfulBlues by the Hague Bluesgitarist/singer/songwriter Dicky Greenwood.Finally, after a collaboration of 17 years and more than 1000 performances together, Kiers decide to put a definite fullstop behind their band, 'Kiers and De Vries. Kiers sets up a new formation called Blood, Sweat and Kiers. Together with gitarist/zinger Chris "C" Clemens, double-bass Frans Hellemans and drummer Maarten Kruijswijk he wants to 'dive' into and explore his big passion for hard rockin' tenorsax sounds and bring these to life! With jazz singer and life partner the CD 'Comes Love' is recorded.During the introduction of the CD a copy is handed over and received by Hans Dulfer in Toomler, Amsterdam.
2006: Apart from the numerous live performances in 2006 this is also the year that Kiers lends his co-operation on many CD's. The first CD by 'Blood Sweat & Kiers' entitled "Sax Jump & Rock 'n' Roll" comes on the market at almost the same time as the 2 nd CD by the Wouter Kiers Quartet, on the 16MB Limited Edition Records label by drummer Maarten Kruijswijk. Together with 'Cheeerz" a live CD was recorded in Jazzcafe the Duke in Leiden. Furthermore, a few guest appearances on CD's of singers Samantha Maddocks and Bridget Smith. Not to forget the guest role on the new solo CD of the former Urban Heroes singer, Evert Nieuwstede. And at the end of the year 2006 a guest solo on the Christmas CD of the sensational band from The Hague, JeWelste by musical star, Martin van de Starre. Inside Blood Sweat & Kiers contra bass player Frans Hellemans will be replaced by Ab Hansen. This is also the year that his relationship with singer Lils Mackintosh comes to an end, however, this does not hold any consequences for their future mutual musical collaboration.
2007: This year too is good for more than 200 live performances with varied band formations with whom Kiers is still active.The 2nd CD by Blood Sweat and Kiers is recorded live at Café Ruimzicht in Burgerveen and in the same café, Mr. Boogie Woogie is presented with the first copy.After having split up their personal relationship a year earlier, Lils Mackintosh and Wouter separate their musical pathways too. The Wouter KiersQuartet now has a fixed line-up consisting of : Maarten Kruijswijk – drums, Leo Bouwmeester – piano and Hans Ruigrok – (double) bass, and of course Wouter Kiers – tenorsaxaphone.
2008:The year that Kiers is asked to perform at the Boogie and Blues Night Theater Tour of Mr. Boogie Woogie. Also, this is the year in which Kiers pays honour to one of his Favourite tenorsaxophone heroes, Boots Randolph, who unfortunately died in 2007.This unique tribute concert which took place in Jazzcafe The Duke in Leiden, is also available the same year on DVD.The Wouter Kiers Quartet isn't staying idle for a minute, and brings out its 3rd CD.This CD gets the title 'Flying Home', after the well-known classic by Lionel Hampton,with a wink and a nod at the famous tenorsax solo by Illinois Jacquet.Blood Sweat & Kiers are still racing toand fro together on multiple Dutch podiums,performing to their utmost, and winning more and more fans with their overwhelming charm and talent.
This is the story so far…….
2009
Het jaar w
DE NIEUWE BAND VAN WOUTER KIERS
Wouter Kiers Trio
Wouter Kiers Quartet
Wouter Kiers Quintet
City Lights
Walter & Kiers
Walter & Friends

Eerdere eigen formaties:
Feet First (1988 - 1989)
No Limits (1989 - 1995)
Kiers' Unit (1995 - 1998)
Kiers & De Vries (1998 - 2005)
Blood Sweat & Kiers (2005 - 2015)
Als sideman werkte Kiers eerder met o.a.:
HIP
Trio Blond en Blauw
Lils Mackintosh Band
Hidden Charmes
Nobody's Band
Mackintosh versus Kiers, Kooger & Krijger
Mackintosh Beats The Horns
Mr. Boogie Woogie & The Firesweep Bluesband
Blue Moon Special
La Blusa
El Fluvia
Sax-90
Read Label
De Varianten
De Bellesteyn Flitsers
De Wokkels
and many more!
De Wokkels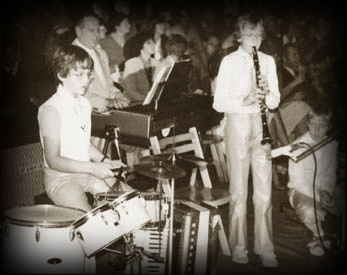 On the clarinet with my Father on the organ and my brother Hans on the drums – 1980
Special thanks to Jaqui Martin for translating this page !